Description
Buy Issue 20 which is all about Hospitals
Issue 20 which is all about Hospitals incudes;
Hospitals are for scientists as well as doctors and nurses
The Hospital Wordsearch
Becoming ill, and what a virus is
Ambulances and Paramedics
Accident & Emergency (A&E)
Florence Nightingale
A home medical kit
Who works in a hospital – a look at a number of different roles
Fun facts about hospitals
Medicine
A broken leg, and how to plan if you're in hospital for a few days
Operations
X-Rays
The Medicine Wordsearch
Kim and Heidi talk about a broken leg
Visiting time
Triple Trouble Chapter Four – A Visit to A&W (fiction)
Fun jokes and quotes
And Finally…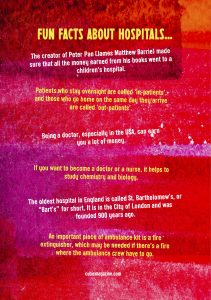 Who Works in a Hospital?
It's important to realise that a dietician who works in a hospital isn't just concerned with reducing weight (which is how most people think about a dietician), because they're concerned with the overall health of patients.
Dieticians make sure everyone in the hospital is eating well – whether or not they like to eat meat, fish, or vegetables!
A Home Medical Kit
A home medical kit can save a trip to the hospital. You can include basic items such as a bandage, plasters, and some medicine. It can even save a trip to the hospital!
Similar Issues to Issue 20 about Hospitals
Buy Issue 20 which is all about Hospitals – Useful Links
Additional information
| | |
| --- | --- |
| Weight | 0.100 kg |
| Dimensions | 21 × 14.8 × 0.4 cm |